Professional

Chimney Cleaning


Service

David Murray is a chimney cleaner providing chimney cleaning and stove chimney cleaning services.
As a local chimney cleaner, David is a fully registered chimney sweep specializing in chimney cleaning and stove chimney cleaning.
The chimney cleaning services provided by David Murray includes chimney cleaning and stove flue cleaning in the following areas: Kentstown, Dunshaughlin, Slane, Wilkinstown, Nobber, Virginia, Dunboyne, Ratoath, Ardee, Drogheda and all areas of Meath.
Other areas also covered, call to enquire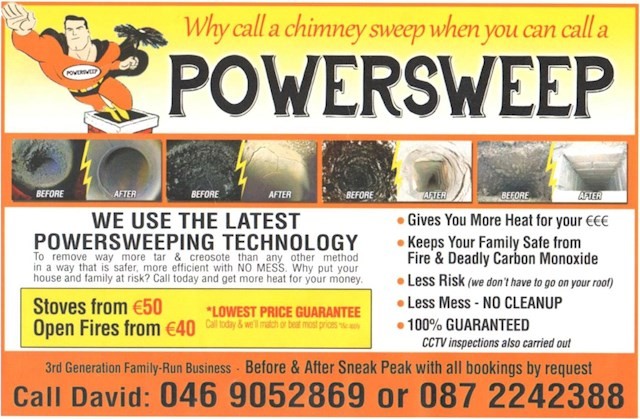 Our
expertise

includes...

We had David in our home today to clean our chimney, chimney flu for both our stove and open fireplace. I would like to start by saying how helpful David was, I had a few questions about our boiler unrelated to the job at hand and he patiently answered them and even did an inspection of this for me. He was so friendly and helpful. He did an amazing job of the chimney and the place was absolutely spotless after he was done. I will absolutely be calling him again and would recommend to a friend!
~ T Kelly
David done a great job very clean and tidy.  Booked in for next appointment and all good service. Would definitely recommend to others.
~ Linda Hogan
Excellent service!!. I had a lot of problems with smoke coming back down the chimney.. I called David he was with me the next day and sort the problem out in no time. he left no mess and i had no problems since
~ Jason Woods
David is a Good Reliable Local Chimney Cleaner. He Has been cleaning my Chimneys for over a Decade. I Fully Recommend David.
~ Cathy Barry
David is friendly and reliable. He knows his trade well and provides a clean and efficient service.
~ Paula Nolan
Very helpful, came out very quickly on a Saturday morning with very little notice. Helpful guy took a look at other stuff with dealing with the initial problem
~ Nadine Goubid
Having just moved in I needed chimney checked and cleaned. David was brilliant. He was so professional, explained everything to me and showed me the crack in the flue. The place was as clean when he left as when he arrived.
David also serviced the oil boiler. It apparently hadn't been done for years and he showed me all the problems before going ahead to fix a leak and replace parts.
It's now running so quietly and there's no fumes. He gave me the cert with emissions clearly marked.
So delighted with his work.
~ Evelyn Sullivan
Top service, serviced and fixed boiler , running good as new now. highly recommended.
~ Richard Andrew
David was dependable and a clean & efficient worker. Would have no hesitation in recommending David to family & friends.
~ Gerardine Brennan